HEALTHCARE GARMENTS
Band Box Cleaners & Laundry Inc. provides professional quality healthcare garments that enhance the professional image.

Band Box Cleaners & Laundry Inc. can provide you with a rental service that will include high quality at an affordable price and still provide you with the customer service that only an independently owned local company can provide.
Band Box features the following products...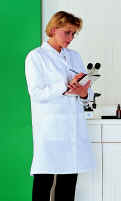 Professional Medical Garments
Scrubs
Lab Coats
Barrier Gowns
Patient Gowns
Band Box adheres to all OSHA and EPA regulations. Our employees practice universal precautions and are trained in the proper handling of healthcare linen and garments.